6 Styles of Sterling Silver Chains For Men & Women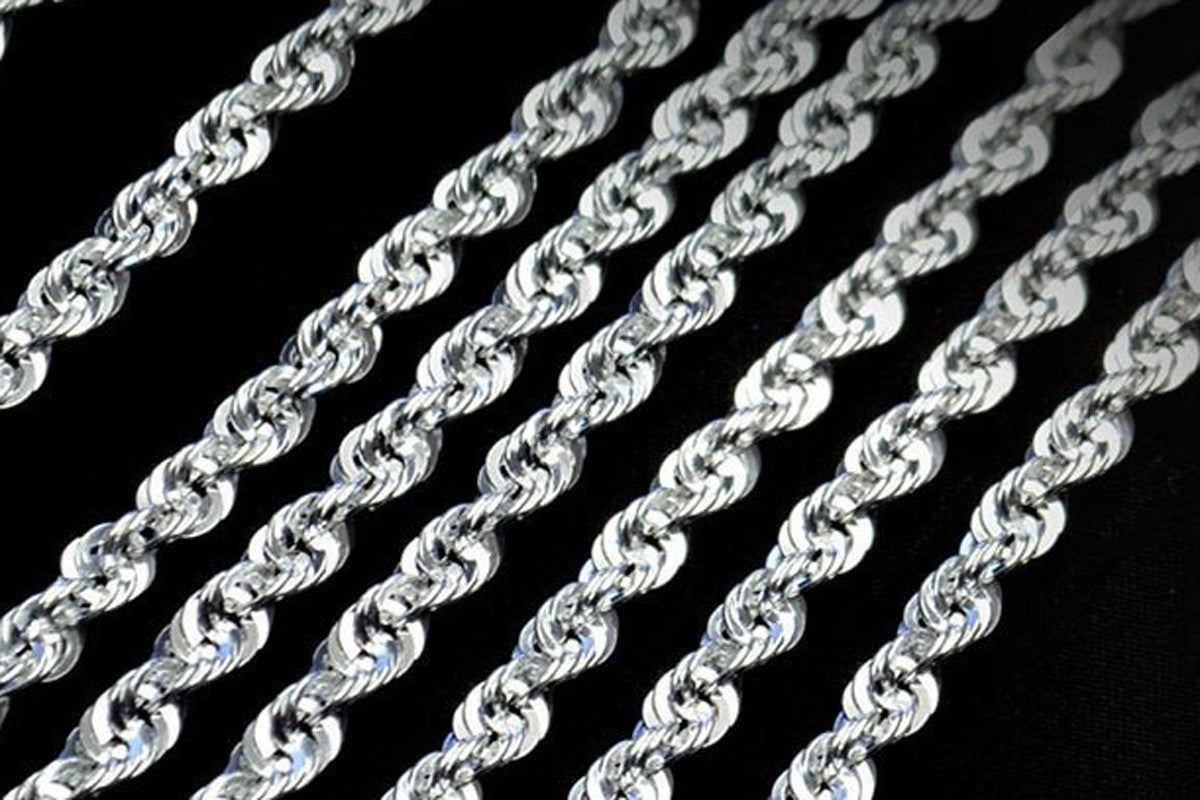 Sterling silver chains from Italy are known for their quality, creativity, and ingenuity. Italian silver combine artisan craftsmanship with modern techniques, producing chains that are beautiful and built to last. 
We believe that silver is at the heart of the industry; Italian chains are perfect examples of that passion.
Since the 1870s, Italy has been known worldwide for its Sterling Silver jewelry.  After the conquest of Rome and the fall of the Papal State, Italy  re-unified in 1870. Since then, the Government of Italy introduced a form of hallmarking to identify any silver piece created in Italy.
For this blog we chose 6 styles of chain that work for both men and women. These sterling silver chains can be used for necklaces, bracelets, and anklets. Depending on the size and length of the chain, these are styles that can work for both men and women.
Curb Chain
Curb chains are the most popular chains on the market  Simple and classic, this style features interlocking and identical links that are an oval shape and twisted to lay flat. I They are hammered and diamond cut to the 6 side diamond cut with beveled edges. Chains that are large, light-weight, and have the most surface area and are the most popular for young men.  They also come in smaller and daintier styles for a more feminine look.
Figaro Chain
Named after the Marriage of Figaro by Mozart, Figaro chains are one of the more popular. These chains are also known as alternating links or as Italian say Alternata links, because these chains feature an elongated link. Figaro originates in Italy and is popular with both men and women. Chains can range in size as small as one mm to large as a 15 mm. Figaro chains are frequently used for men's jewellery. Thinner links paired with a pendant or charm make an elegant jewellery accessory for women.
Figarucci Chain
Similar to the Figaro in format, this chain alternates a long link open link with a shorter link of a "Marine" or "Maglia Marina" link combined together. The Marine link echoes the traditional links that are used to dock ships; the chain links feature a bar that is also seen in chains used to dock boats for strength.
Rope Chains
Made of multiple intertwined oval links, flexible and strong, Rope chains are linked in a small, twisted pattern to resemble a genuine rope. Known to catch a lot of light, this piece is classic yet beautiful. Delicate versions work well for pendant necklaces, and heavier versions work well where the chain itself is the main attraction.
Rolo Chains
Another style of chain popular with both males and females is the Rolo chain. Compromised of round interlocking links with alternating links turned 180 degrees, Rolo comes in a range of widths. Pick a style that works for you!
Wheat Chains
This type of chain is inspired by the top of the wheat husk. Also known as Spiga in Italian, this type of silver chain is inspired by the grain. This chain is versatile and can be worn as a pendant or on its own. The silver is woven intricately, creating a look that is both delicate and eye-catching!  
Box Chains
Like its name, the links in this piece have square links rather than round. Also known as a Venetian Box, this type of chain is perfect for pendants or worn on its own. For a more masculine look, opt for thicker chains.  
Please see our chart for different sizes and lengths to select the size that works for you.
All silver chains can be found on our Amazon store.